Blockchain games are on 🔥🔥 these days and Splinterlands is one of them. Splinterlands is one of my favorite games so far. If you are new to this game, read this. In this splinterlands review, I am going to share one of the gameplays and talk about some cards I used. Hope you enjoy it!
Featured Card: Pirate Captain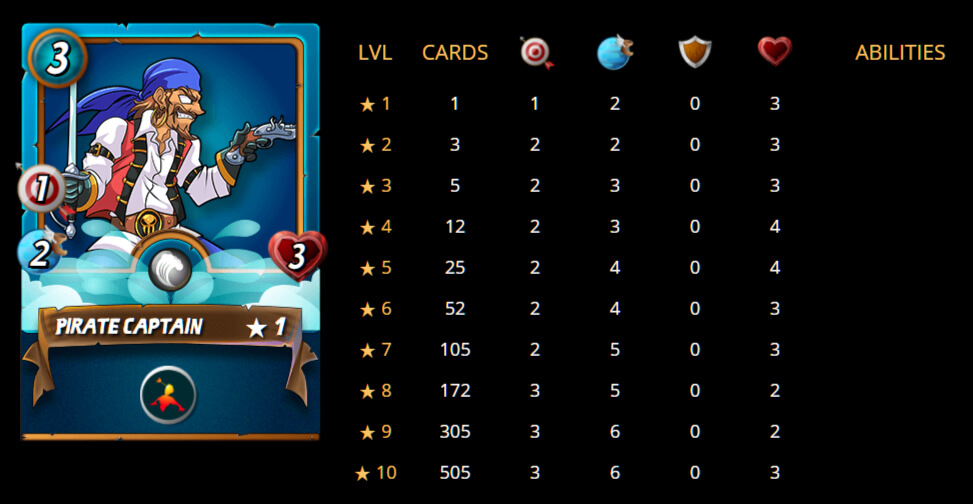 Pirate Captain is a common water monster. It only costs 3 mana, and it has the snipe ability. On level 1, it has 1 ranged attack, and it becomes 2 on level 2. You need 2 cards for level 2 alpha, and 3 cards for level 2 beta Pirate Captain. Max level 5 Pirate Captain can be used in the silver league.
 Click the image above and watch the battle!
The battle was held in the silver league. The mana cap was 22 and the ruleset was 'Earthquake'. I used Vera Salacia as my summoner for the snare ability, and Venari Wavesmith for the shield ability. The cards that I used were;
– Vera Salacia 
– Prismatic Energy
– Furious Chicken
– Pelacor Bandit
– Venari Wavesmith
– Pirate Captain

The enemy team was a heavy magic team with Alric as a summoner. The enemy team's cards were;
– Alric Stormbringer
– Kelp Initiate 
– Pirate Captain
– Venari Wavesmith 
– Ice Pixie
– Enchanted Pixie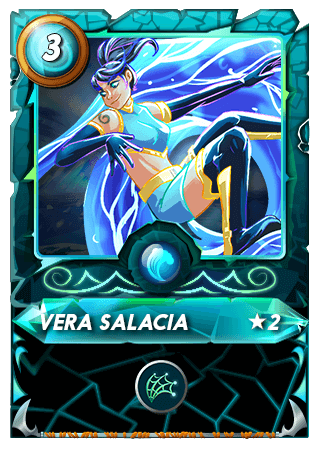 Vera Salacia is a water summoner and she gives all friendly monsters the snare ability. She is especially useful in the earthquake ruleset. Snare ability removes the flying abilities of enemy monsters and makes the battle so much easier to win.
Prismatic Energy is a robust neutral card with the magic reflect ability. The neutral splinter makes it very versatile, and the magic reflect ability is super useful when dealing with magic enemy teams. 9 health stat makes it a good tank.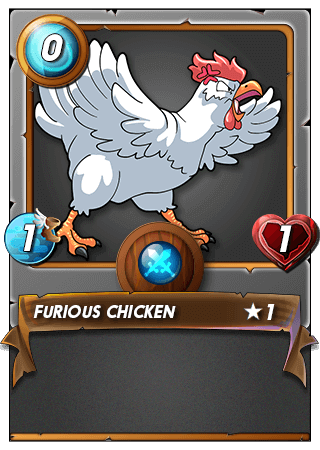 Furious Chicken is a very popular card because of its utility. It only has 1 speed and 1 health, but since it costs no mana it can really be put anywhere anytime. It can fill up an empty spot and take some damage. It is especially great when used with Mylor, because it can give the enemy one more thorns attack!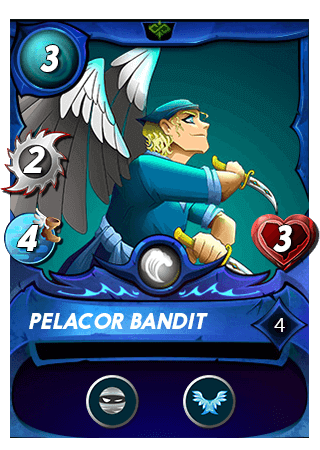 Pelacor Bandit is a water sneak attacker and it is one of the newest reward cards. It has flying ability on level 1 giving it a possibility to evade some attacks. And because of the flying ability, it is useful in the earthquake ruleset. It gets 1 more melee attack on level 4 and max level 5 Bandit can be used in the silver league.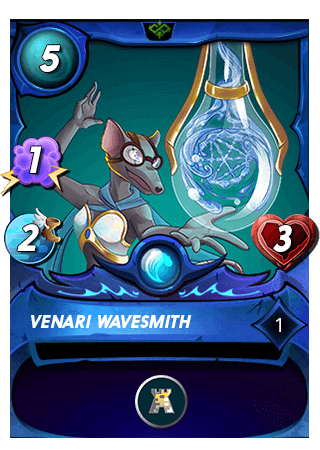 Venari Wavesmith is a water magic attacker with the protect ability. The protect ability is very useful in most of the battles and this makes Wavesmith such a good card. It makes the team much more tenable. It can be a more potent magic attacker with summoners like Alric or Delwyn.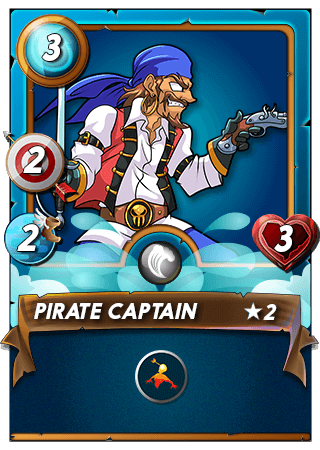 Pirate Captain is a water snipe attacker with only 3 mana cost. 3 mana cost makes it available in the Little League ruleset. The nice thing about Pirate Captain is that it requires lower level(level 2) to make its attack stat from 1 to 2. You need 2 cards for level 2 alpha, and 3 cards for level 2 beta. 2 ranged snipe attack with only 3 mana cost is quite nice.
Click the image above and watch the battle! 
■ Tell us about your lineup. Explain why you put each card in that position and why they are a good fit with the monster. 
I often use Vera Salacia as a summoner when the ruleset is 'Earthquake'. To use the snare ability more effectively, I placed both sneak and snipe attackers in my team. Because it is more effective when you hit as many enemy monsters as possible instead of focusing on only one enemy monster. I used Venari Wavesmith for its protect ability to protect my team from Earthquake damages. The enemy's favorite team was magic team, so I picked Prismatic Energy as my tank. Furious Chicken was in the second position to block snipe attacks. The third and the back-end were Pelacor Bandit and Pirate Captain respectively. Venari Wavesmith was in between those two to be well protected.

■ Did your strategy work? What will you try differently next time?
My plan was to remove flying abilities from enemy monsters and to finish them with earthquake damage while Prismatic Energy was holding out against some attacks and reflecting magic attacks. My plan worked out good and I won the battle.
■ Do you like the monster? Why or why not?
Pirate Captain is a nice snipe attacker with a low mana cost. However, I personally don't often use snipe attackers in my team. Except for a few circumstances, I prefer Pirate Archer to Pirate Captain.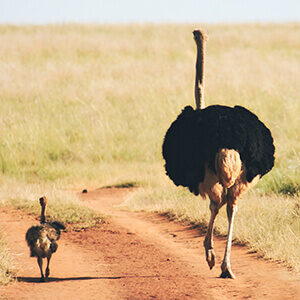 I'm really enjoying the game! All the beautiful cards, strategies and battles are fun and exciting. Are you also enjoying the game? Aren't you playing the game yet? If you aren't, come join us here. It is so much fun! You will love it!
In the next article, I will talk about other monsters and battles. Stay tuned! See ya.
#splinterlands #play2earn @splinterlands @play2earn