Blockchain games are on 🔥🔥 and Splinterlands is one of them. Splinterlands is one of my favorite games so far. If you are new to this game, read this. In this splinterlands review, I am going to share one of the gameplays and talk about some cards I used. Hope you enjoy it!
Featured Card: Djinn Chwala
Djinn Chwala is an epic dragon tank with 'Thorns' ability and 8 mana cost. It learns 'Enrage' ability on level 4, and 'True Strike' ability on level 6. It is a powerful tank and its 'thorns' ability is very useful. The max level of Chwala for the silver league is  3 and you need to combine 10 cards for that.
 Click the image above and watch the battle!
The battle was held in the silver league. Mana cap was 21 and the rulesets were 'Noxious Fumes' and 'Taking Sides'. I picked a dragon team with death splinter cards. The cards that I used were; 
– Kretch Tallevor
– Djinn Chwala 
– Undead Priest
– Harklaw

The enemy team was a water team with Kelya as a summoner. The cards that the opponent used were;
– Kelya Frendul 
– Serpent of Eld
– River Nymph 
– Merdaali Guardian
– Angelic Madarin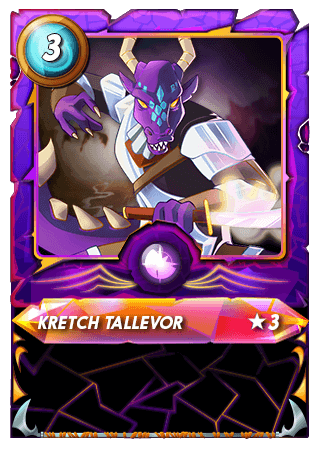 Kretch Tallevor is an epic summoner without any buff. Cheaper Dragon summoners usually cost 4~5 mana, however Kretch only costs 3 mana. This saved mana may be used to place one or two more low-cost monsters.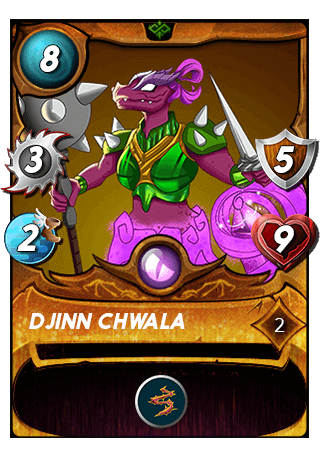 Djinn Chwala is a good dragon tank with the thorns ability. It has high health and armor stat as well. Its thorns ability is useful in most battles. Because of its ability, it can also be a good sneak attack blocker when placed in the back end position.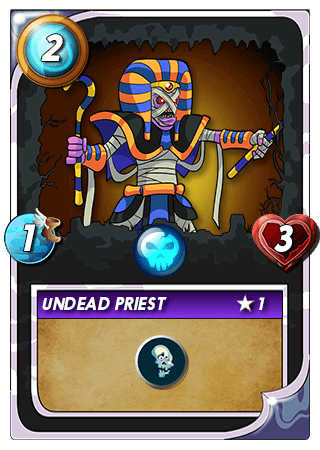 Undead Priest is a similar monster to Goblin Shaman but with one less mana cost. It has the weaken ability which can be helpful in many situations. I often use it as a supporter and also as a snipe attack blocker.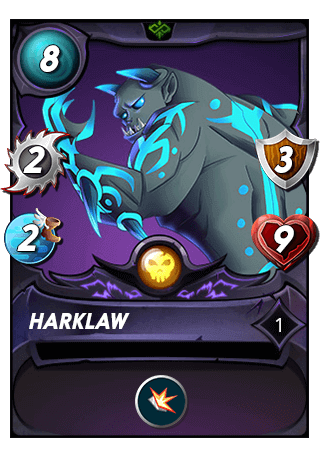 Harklaw is a legendary death tank unit with 'Shield' ability. Although 'shield' ability is helpful, I prefer Cursed Windeku to Harklaw in Death splinter teams. However, Harklaw is very powerful in the 'Noxious Fumes' ruleset because of its 'immunity' ability. But it needs to be at least level 2 for 'immunity' ability.   
Click the image above and watch the battle! 
■ Tell us about your lineup. Explain why you put each card in that position and why they are a good fit with the monster. 
Since one of the rulesets were 'Noxious fumes', I chose units with high health and the one that can decrease enemies' health. I placed Djinn Chwala in the front end, so that it can deal enemies as much as possible with 'thorns' ability before it dies with poison. I placed Harklaw in the back end, because it can save up its health while other units are dying away by poison. Even though enemy teams have sneak attackers, Harklaw's 'shield' ability is strong against those attacks. Undead Priest was in the middle and decreased enemies' health by 1.
■ Did your strategy work? What will you try differently next time?
If the ruleset is 'Noxious Fumes', you can get a higher win rate, when you place units with 'immunity' or 'heal' ability in the back part of your team, not the front. Djinn Chwala missed lots of its attack on Serpent of Eld, however, 'thorns' ability dealt pretty much damage to it. 
■ Do you like the monster? Why or why not?
Djinn Chwala is one of my favorite tanks. It has high armor and health, and powerful 'thorns' ability. It is good for both main tank and sneak attack blocker. 'Enrage' and 'True Strike' abilities will make it even more powerful in higher levels.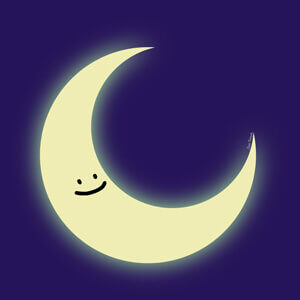 I'm really enjoying the game! All the beautiful cards, strategies and battles are fun and exciting. How about you? Are you enjoying the game as well? If you are not playing the game yet, come join here. It is so much fun and you will love it!
In the next article, I will talk about other monsters and battles. Stay tuned! See ya.
#splinterlands #play2earn @splinterlands @play2earn