Blockchain games are on 🔥🔥 and Splinterlands is one of them. Splinterlands is one of my favorite games so far. If you are new to this game, read this. In this splinterlands review, I am going to share one of the gameplays and talk about some cards I used. Hope you enjoy it!
Featured Card: Disintegrator
Disintegrator is a common neutral melee unit with 'Demoralize' ability and 7 mana cost. It learns 'Trample' ability on level 5, 'Knock Out' on level 8 and 'Retaliate' on level 10. The max level of Disintegrator for the silver league is 5 and you need to combine 60 cards for that. 
 Click the image above and watch the battle!
The battle was held in the silver league. Mana cap was 42 and the rulesets were 'Holy Protection' and 'Melee Mayhem'. I picked a dragon team with earth splinter cards. The cards that I used were;
– Kretch Tallevor
– Djinn Chwala 
– Desert Dragon
– Disintegrator 
– Mushroom Seer 
– Wood Nymph
– Pelacor Mercenary  

The enemy team was an earth team with Obsidian as a summoner. The cards that the opponent used were;
– Obsidian
– Venari Knifer
– Unicorn Mustang
– Mycelic Splipspawn
– Regal Peryton
– Goblin Psychic
– Venari Spellsmith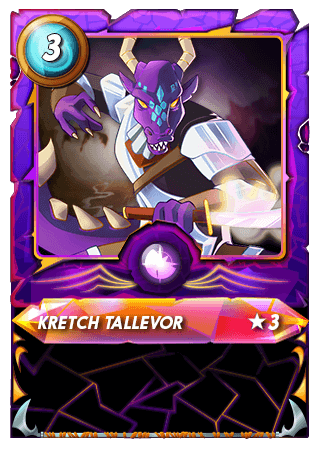 Kretch Tallevor is an epic summoner without any buff. Cheaper Dragon summoners usually cost 4~5 mana, however Kretch only costs 3 mana. This saved mana may be used to place one or two more low-cost monsters.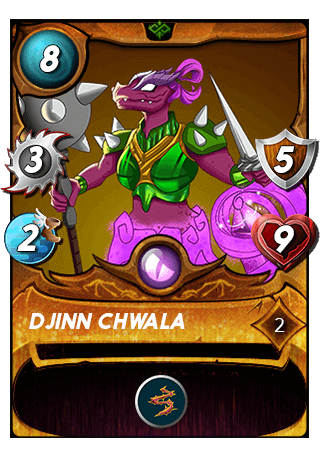 Djinn Chwala is a good dragon tank with the thorns ability. It has high health and armor stat as well. Its thorns ability is useful in most battles. Because of its ability, it can also be a good sneak attack blocker when placed in the back end position.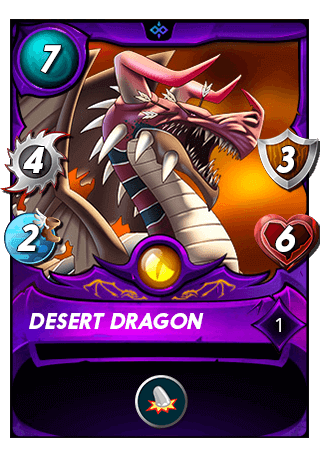 Desert Dragon is a powerful melee attacker with the trample ability. It has a high attack stat and it is fun to watch when the trample ability is activated. The trample ability cannot be activated with sneak attacks.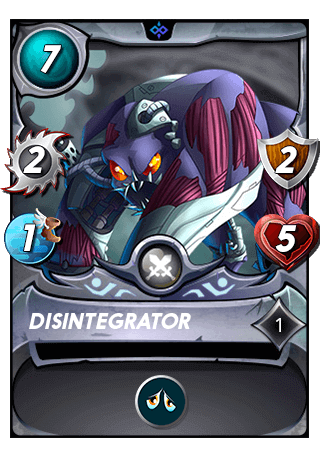 Disintegrator is a useful melee attacker because of its 'Demoralize' ability. 'Demoralize' reduces enemy monsters' melee attack by 1. This makes it very helpful especially in battles with many melee attackers such as battles with 'Up Close & Personal' and 'Super Sneak' ruleset. Disintegrator with 'Trample' ability is even better because 'Trample' is quite strong in those rulesets mentioned above.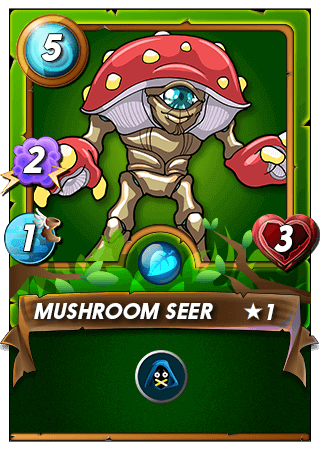 Mushroom Seer is one of the essential cards when dealing with a magic enemy team. Although it has low speed and health, its silence ability can often be a game-changer. Due to its low speed, it is useful in the 'Reverse Speed' ruleset. 2 magic attack from level 1 is also quite nice.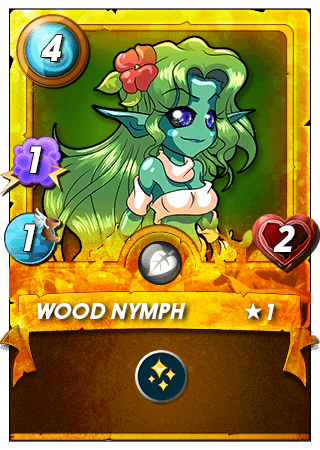 Wood Nymph is an earth healer, and healers are important and helpful in many circumstances no matter what splinter they are. It can make the team much more secure. It makes the best combination with Unicorn Mustang and Mushroom Seer to counter magic enemy teams.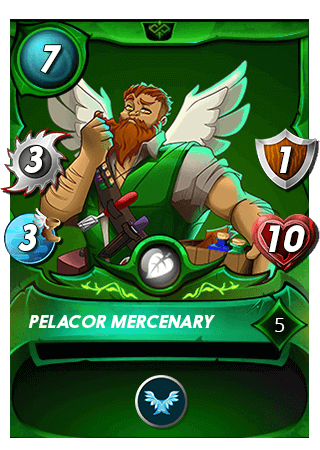 Pelacor mercenary is an earth tank with flying ability. It learns 'Heal' ability on level 6 which can be used in and above the gold league. It will obviously be very powerful then. However, it is still a strong tank on level 5 without 'Heal' ability, because it is fast, it has 'flying' ability and 3 melee attack is quite powerful. 
Click the image above and watch the battle! 
■ Tell us about your lineup. Explain why you put each card in that position and why they are a good fit with the monster. 
Since one of the rulesets was 'Melee Mayhem', I placed a few melee attackers in the middle and the back. Desert Dragon is very powerful in the 'Melee Mayhem' ruleset because of  its 'Trample' ability. Disintegrator is also very helpful in the 'Melee Mayhem' ruleset because of its 'Demoralize' ability. I placed Pelacor Mercenary in the back end to block some possible sneak attacks. My main tank was Djinn Chwala. Djinn Chwala is weak against magic attackers, so I placed Mushroom Seer in the middle. Wood Nymph was my healer and it was placed in between Mushroom Seer and Pelacor Mercenary and well protected. 
■ Did your strategy work? What will you try differently next time?
Putting Mushroom Seer in my team was a good choice because the enemy team was a strong magic team. The enemy team didn't have many melee attackers and any sneak attackers, so my Disintegrator and Mercenary were not as useful as other units. However, it was still okay because they could attack from the middle and the back.
■ Do you like the monster? Why or why not?
Disintegrator is a very versatile and useful unit in lots of different battles. I also really like the 'Trample' ability. That is why I've kept buying the cards and I'm very close to making it level 5. In addition, it is interesting that it learns 4 abilities total, which is a lot for a common unit.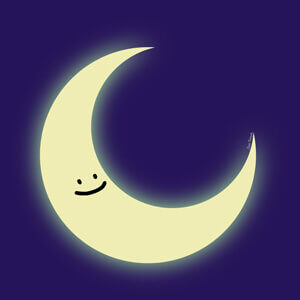 I'm really enjoying the game! All the beautiful cards, strategies and battles are fun and exciting. How about you? Are you enjoying the game as well? If you are not playing the game yet, come join here. It is so much fun and you will love it!
In the next article, I will talk about other monsters and battles. Stay tuned! See ya.
#splinterlands #play2earn @splinterlands @play2earn